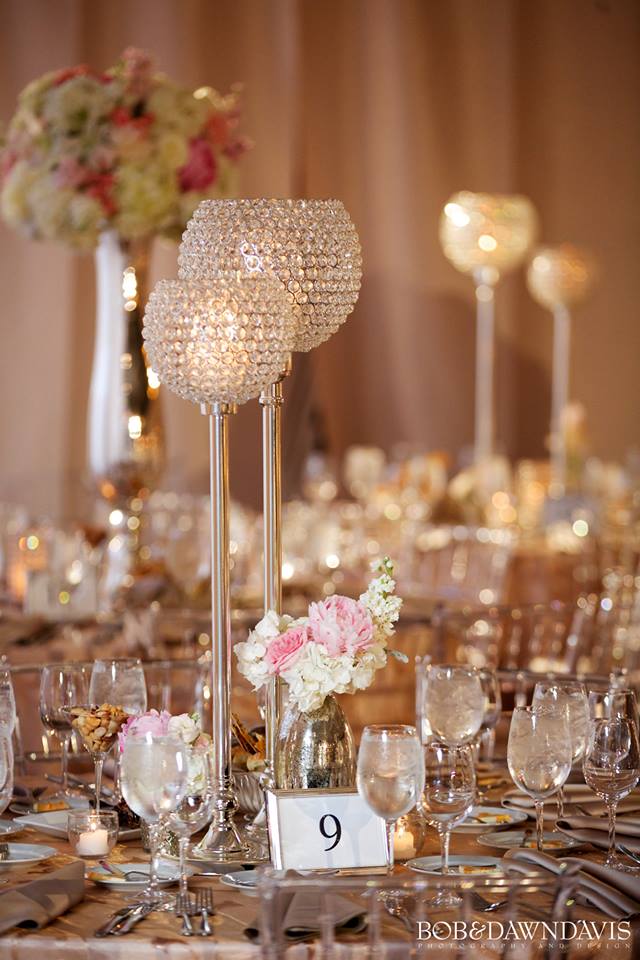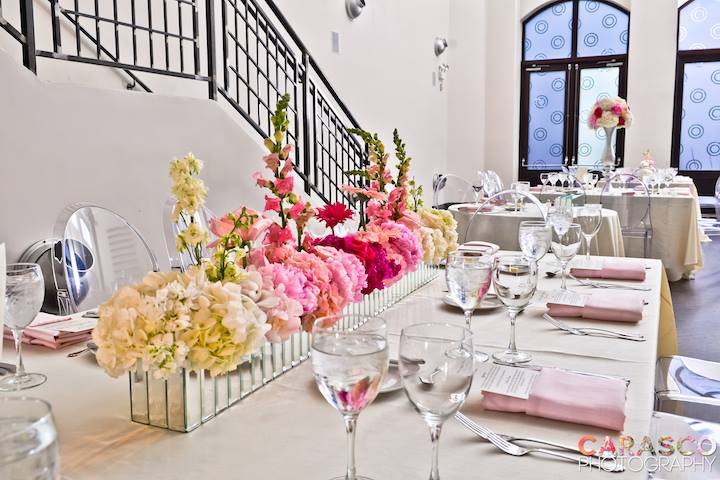 Tabletop Décor, Centerpieces, and Table Scapes
StemLine Creative's approach to a reception combines style, variation, contrast and lighting to create a dynamic and unforgettable setting. From bold and modern centerpieces, to dramatic candle treatments, to romantic and vintage styling we will design a look that will draw guest's eyes throughout your reception venue.
High & Low Design
With lofty venues suspending greenery is a great way to lower the ceiling height and create a more intimate dining experience for guests. Accompanying the suspended greenery with long and low table arrangements makes for a cohesive look that draws guests eyes through the space.
Romantic with a Touch of Antique
Elevated mercury glass candles help to add a warm glow on a composed low centerpieces. Combining low and tall centerpieces provides variance that helps draw the eye through the reception.
Structured and Hanging Table Top Décor
Shock guests by elevating and suspending your table top décor and adding a dramatic candle arraignment to complete the look. Contemporary hurricane vases support a dense organic arrangement of lush floral, complete with hanging glass embellishments.
Lush Floral With Pillars
Combining pillar candles with votives and floating candles is a great way to provide interest and add layers of light to any low arrangement. We love to nestle candles within arrangements for a more cohesive look.
Pops of Peach & Pink
Introducing texture and color into elevated table arrangements through roses and greenery is an impactful way to elevate tall centerpieces. Echoing the accent flower in a bouquet and low arrangements completes the look.
Suspended and Natural
Manzanita branches nestled into lush greens and hanging amaranthus is a great way to add texture to any centerpiece. Adding suspended votives elevates the centerpiece and casts a warm glow on the textures of the arrangement.
Modern and Intimate Table Top Décor
Combining saturated bold colors with elegant candle light at varied height perfectly frames a modern and bold reception. Using rectangular feasting tables further enhances the statement.
Tradition and Texture
Take elevated centerpieces to the next level by adding touches of hanging seeded eucalyptus and fragrant stock. Surrounding the tall focal with warm candle light and smaller composed arrangements will "wow" your guests.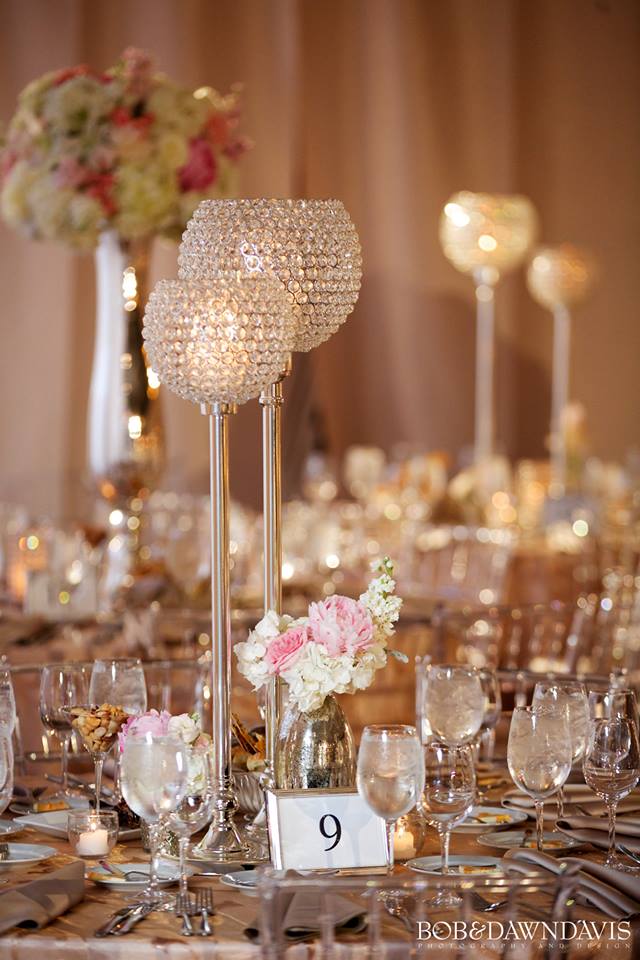 Glitzy & Romantic Centerpieces
Tall candelabras with prism clad basin cast a warm and twinkling glow throughout the reception venue. Paired with soft pink peonies, fragrant stock, and garden roses, a elegant and romantic stage is set. Photo Credit: Bob & Dawn Davis Venue: Ignite Glass Studios
Color Blocked and Architectural Centerpiece
Combining the sharp edges of white lucite flower boxes with seasonal and structural floral creates a modern yet airy arrangement.
Low and Lush Centerpieces
Using texture and variety, a low arrangement accented with elegant candlelight completes a vintage and romantic aesthetic. Subtle pops of accenting colors and vibrant tones help create visual interest among the composition.
Timeless & Textured Centerpiece
When going with a mono-chromatic design it is important to include textures to create visual interest. With dangling orchids, hydrangea, and roses, this arrangement becomes timeless and elegant.
Classic and Dramatic Elevated Centerpiece
Draw guest's eyes through your reception with the use of tall and low arrangements, complete with soft candlelight. A traditional composition of soft textures with dangling accents creates a cohesive and impactful look.
Loose & Lush Centerpiece
Elevated centerpieces do not have to be compact balls of flowers. Adding loose greenery for additional texture and incorporating a metallic pedestal is a great way to add interest and originality.
Bold and Glamorous Table Setting
Using a variety of heights along with suspended structures draws guest's eyes up and out. Embellishing the setting with light catching crystals, appliques, and cut crystal adds another layer of dimension to the composition.
Saturated and Monochromatic Elevated Centerpieces
Embracing a single color can create a cohesive and contemporary composition. Using texture and various hues of the same color family adds visual interest to the piece.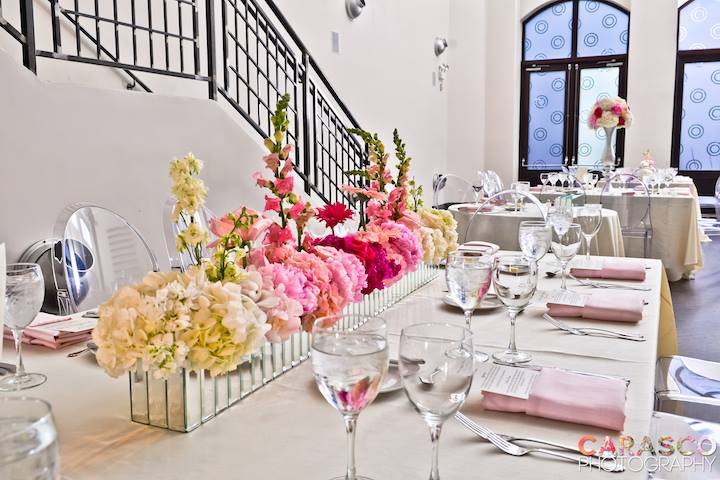 Ombre Table Top Décor
Using an ombre gradient color scheme moves the eye forward through the reception setting. Framing the arrangement in mirrored vessels reflect light and complete a contemporary look.
Traditional Setting, Bold Statement
A dramatic statement of tall philodendron leaves highlighted with pin spots, creates an statement inspired by the art deco era. Tall ornate gold candelabras provide a contracts and warmth to the setting. Photographer Credit: Kent Drake Photography Venue: Palmer House Hilton