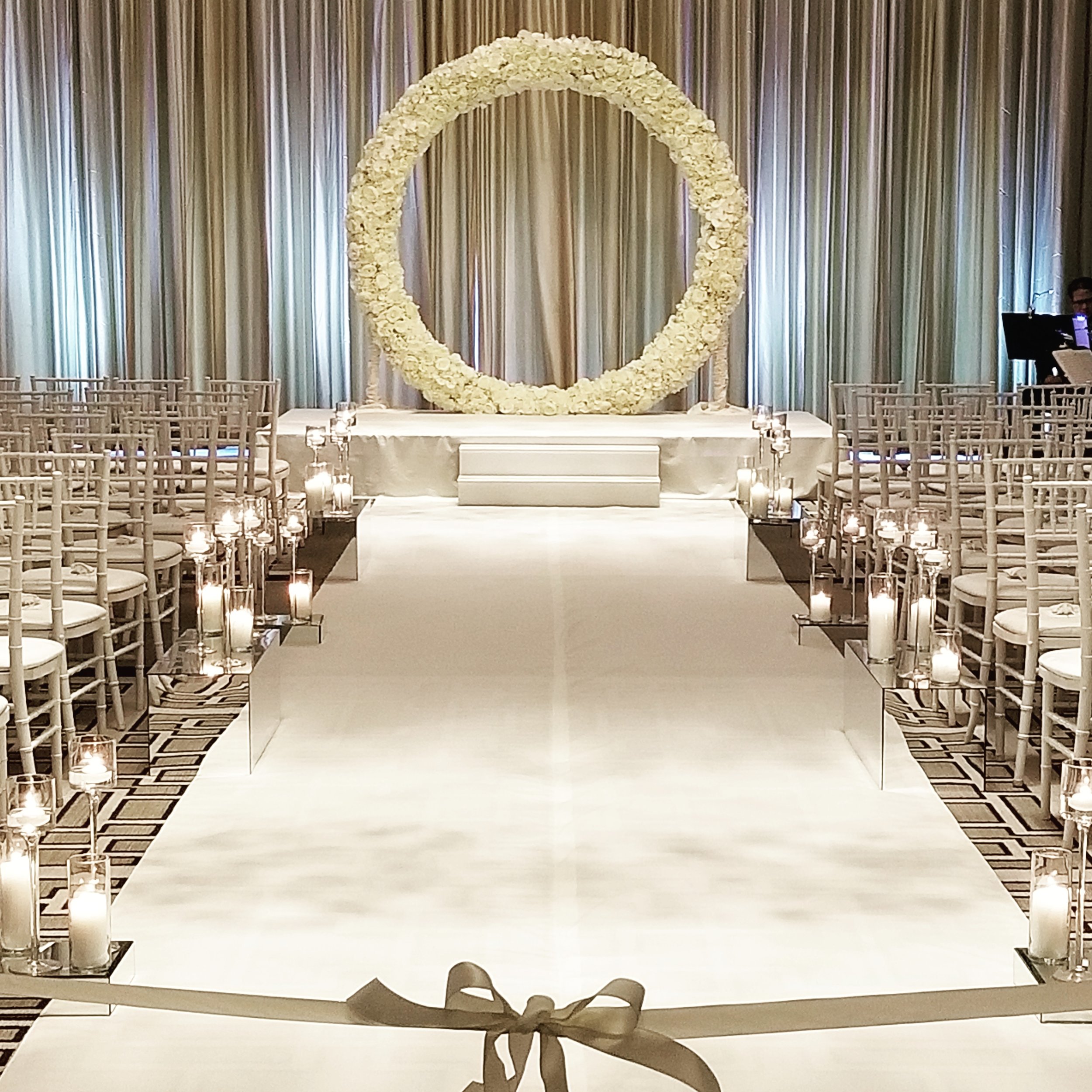 Ceremony Designs
From dense candle arrangements, focal floral statements, candelabras, and floral backdrops, StemLine Creative's approach to your ceremony will provide the perfect setting for your "I dos".
Frame Your Day
An elegant and natural arch is a perfect way to frame an already amazing backdrop. Adding asymmetrical greens provide interest, and helps to frame out an intimate ceremony.
Rustic Chic Ceremony Design
Natural wood structures softened with soft fabric swag and lush natural greens, elevating a natural environment with organic touches.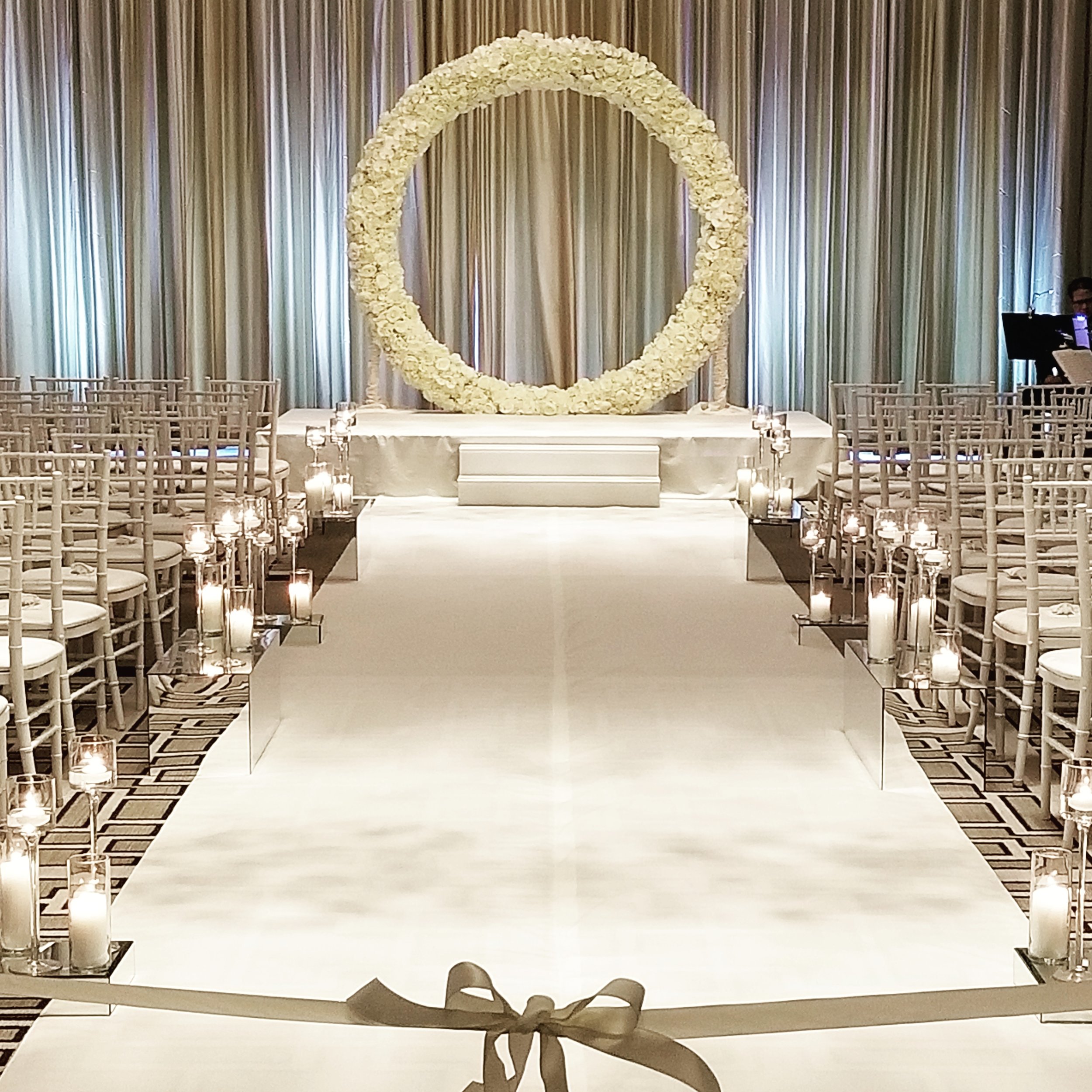 Show-Stoping Ceremony Design
Backdrops do not have to be walls or fabric panels. Elevating the setting with a sculptural and unifying floral ring is a dramatic and show stopping way to enhance a ceremony setting.
Contemporary Ceremony Design
Drawing your eye from down the aisle, lush tall arrangements create a bold statement in a contemporary setting -- a perfect way to incorporate an accent color in an otherwise neutral setting. Photo Credit: Kent Drake Photography Venue: Langham Chicago
Radiant & Elegant Ceremony
Transforming and playing with light is a great way to embellish a ceremony setting. From candle light, mirrors, an aisle runner with sheen, the ceremony becomes dynamic and intriguing.
Bold and Modern Ceremony Setting
A striking and high contrast environment with pin-spotted lush arrangements at varied elevations and dramatic chandeliers.
Vintage and Romantic Ceremony Setting
Soft and sweet arrangements with a variety of textures in both the floral and vessels, further enhances with the natural glow of candle light.
Dramatic Candle Back Drops
Striking bookshelves play host to an incredible display of warm candle light that throws a warm amber glow through a variety of gem, glass, and mirrored vessels.
Architectural and Dramatic
Elevating a space with architectural details can be done through lighting and framing. Incorporating an arch draws guests eyes through the space and allows them to land on the couple.
Framing the Aisle
Utilizing tall focal arrangements on elevated mirrored cubes creates an engaging and elegant aisle entry. If the ceremony and reception are taking place in the same venue, the arrangements can be repurposed as tall centerpieces for dining tables.
Aisle Arrangements & Decor
Elevated mirrored cubes host a variety of warm candles, and lush floral, enhancing the perspective of the aisle and creating an impactful cohesive statement.
Ceremony Floral Walls
Balancing structure with organic embellishments, a floral wall is a dramatic and lush way to make an impactful statement that guest are sure to remember.
Combining Ceremony Elements
Warm candles, a soft treatment of floral petals, and a glowing backdrop softness with thick fringed fabric is a perfect combination of floral and decor to frame your intimate celebration.
Enhance the Ceremony Space
Instead of detracting from an already intricate architectural setting, soften it through romantic candles at varied heights, and a light fabric focal.