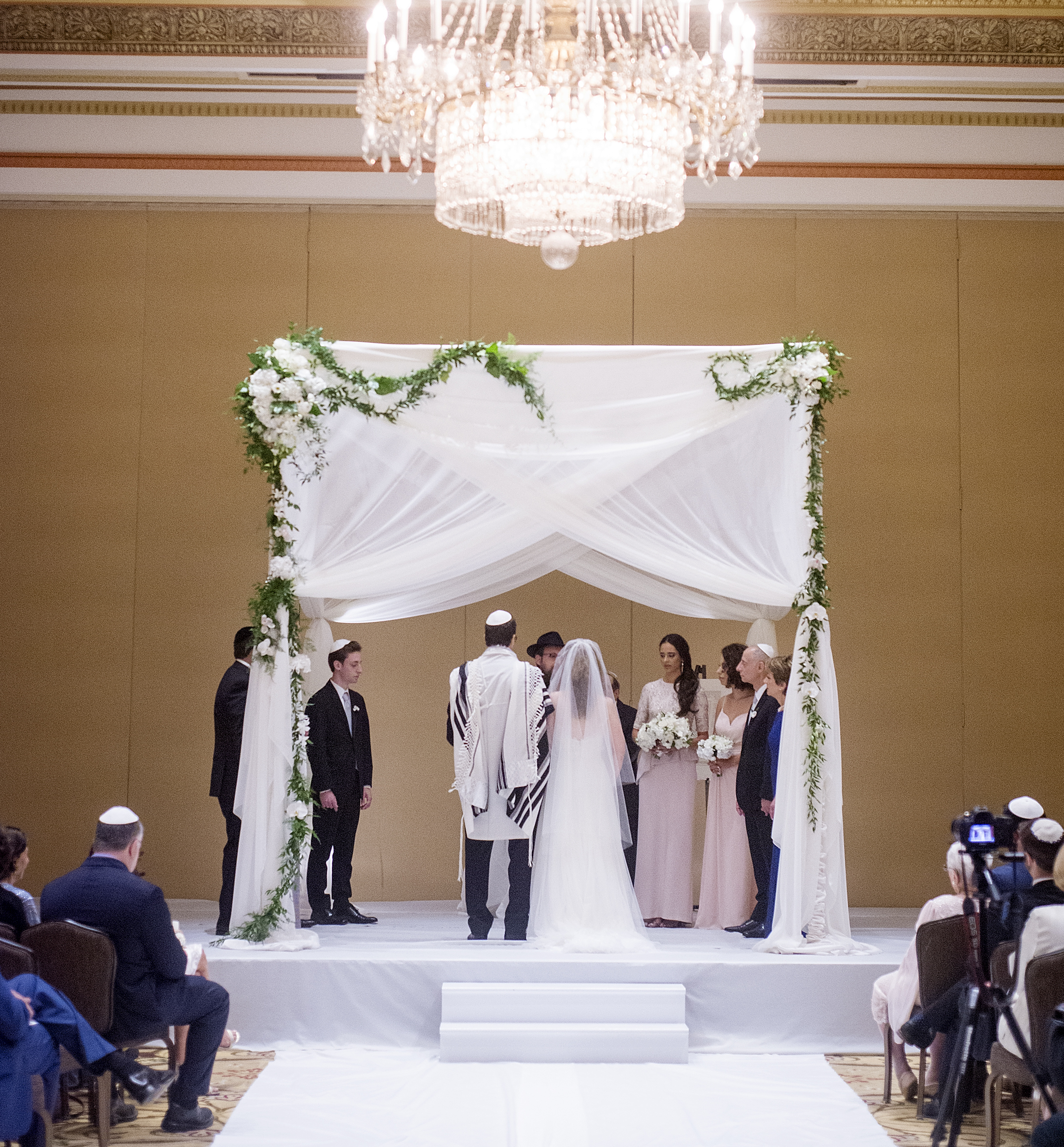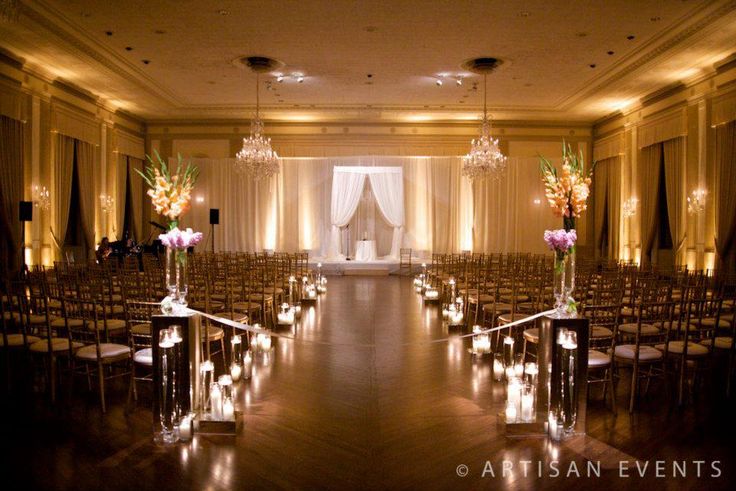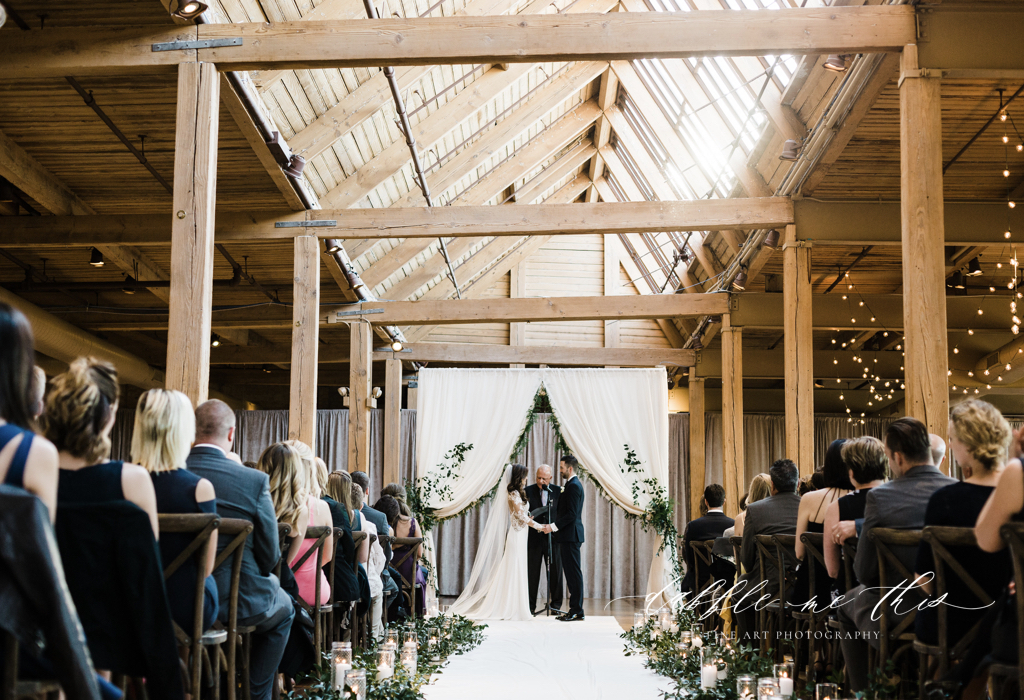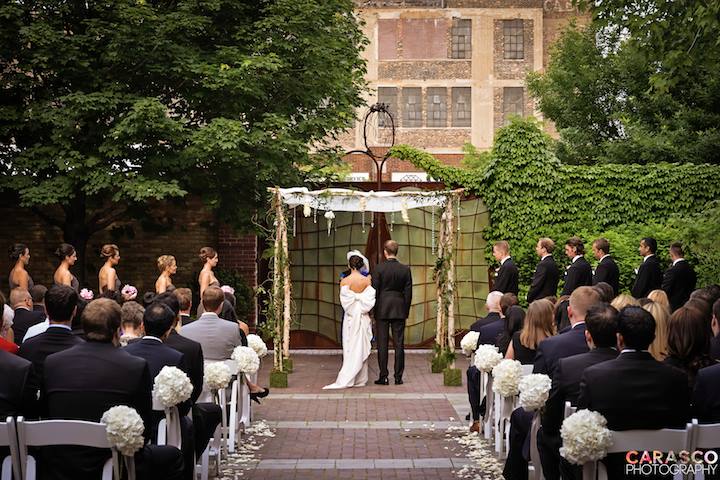 Customized Chuppahs, Backdrops & Ceremony Structures
Whether it is tradition or style, enhancing your ceremony through a unique Chuppah, backdrop, or ceremony structure will further elevate your wedding day, and ensure you make a lasting impression on your family and friends.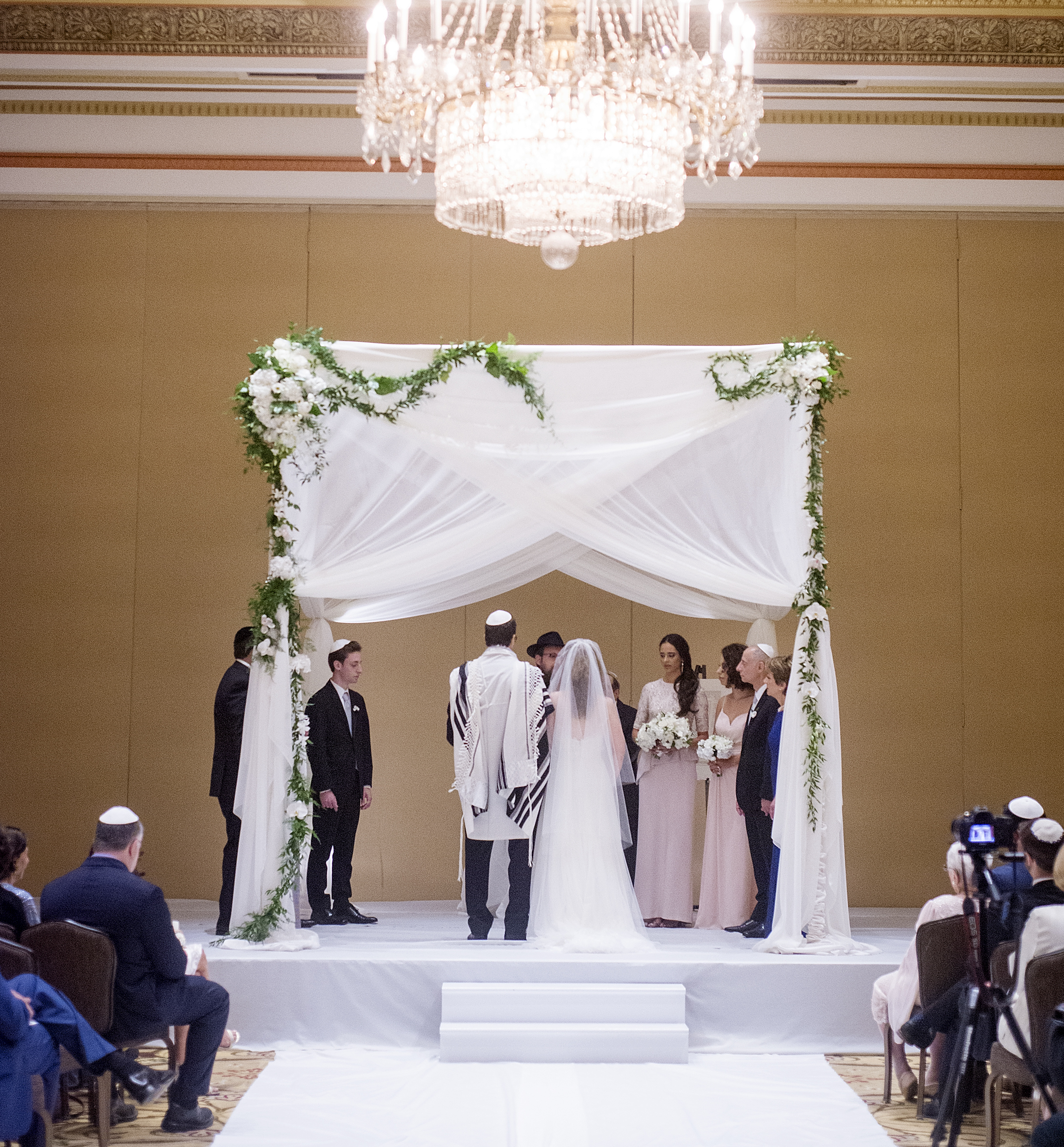 Billowing & Beautiful Chuppah
Elevate your ceremony by combining traditional and natural elements. Combining crawling ivy and greens with soft white floral and billowed drape can add drama and interest to any ceremony.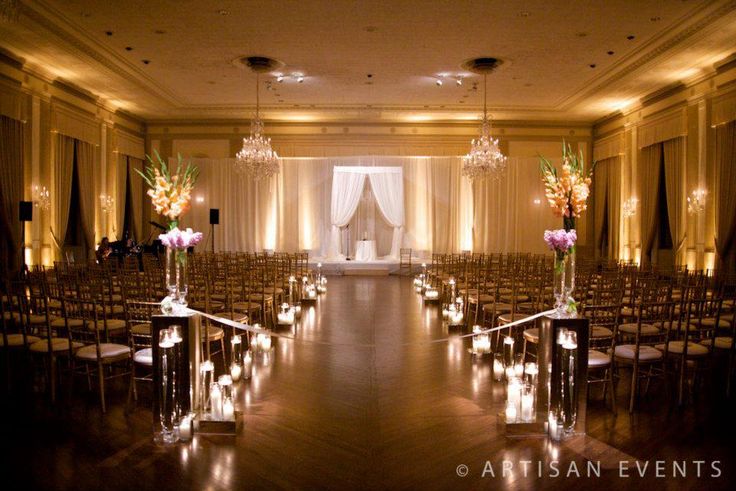 Floral Framing and Up-lighting
A serene and romantic ceremony setting, embellished with elevated floral, and soft reflective candles. Using symmetry and uplighting creates a traditional and impactful display.
Glowing Chuppah
With layered cascading fabric and dramatic backlighting, the chuppah becomes an etherial and eye catching focal. Embellished with dangling ivy, and romantic candle light the ceremony is both contemporary and traditional. Photo Credit: Elena Bazini Photography Venue: W City Center
Cross-swagged & Embellished Chuppah
Elevating the chuppah on a draped stage and creating an asymmetrical embellishment through lush greenery and floral is a great way to add height and drama to a ceremony.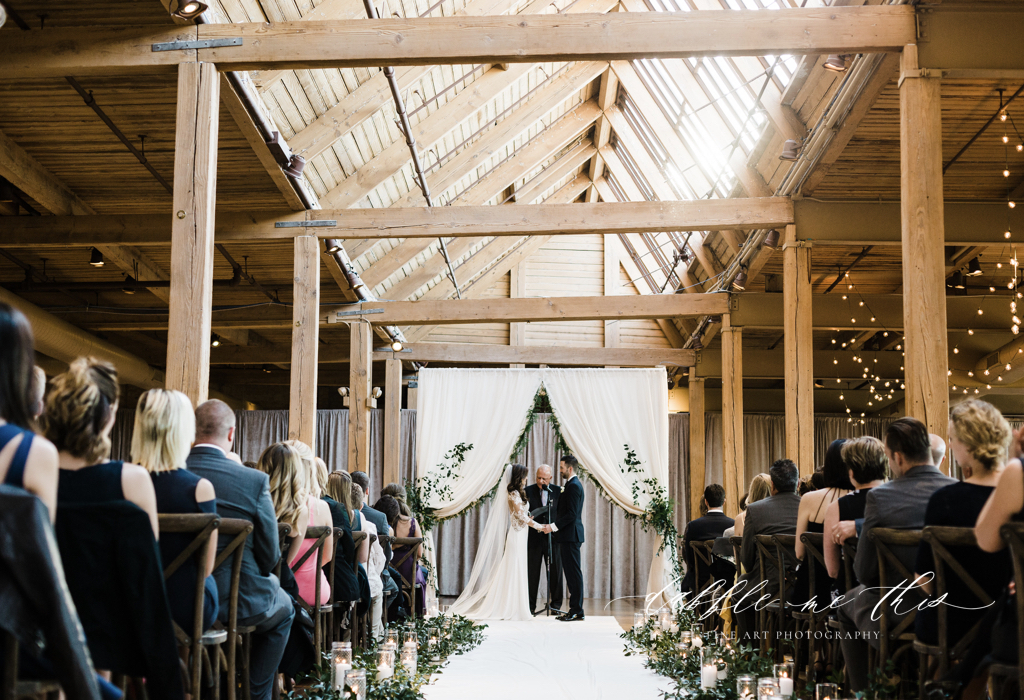 Soften Loft
Combining dramatic greenery with white fabric drape is a great way to soften an other wise raw loft venue. With touches of greenery cascading down the aisle dotted with eclectic glass candle vessels, this approach reads vintage, natural, and urban.
Dramatic & Enticing Chuppah
Striking floral and candle light lead to a dramatic pin-spotted chuppah. This impactful approach combines contemporary and traditional elements with saturated light.
Transparency & Layers
Providing a strong focal at the start of the aisle will naturally provide a focal and draw your eye towards the Chuppah. Adding transparent swagged layers add interest and texture to the ceremony.
Structural Chuppah with Greenery
Metallic Posts crawling with ivy garland and grounded with a romantic candle treatment create a natural setting in the most traditional and ornate spaces. Photo Credit: Kent Drake Photography Venue: Palmer House Hilton
Natural Garlands and Hanging Structures
Suspended natural textures with touches of beveled glass and cut crystal, frame a ceremony setting with an elegant and charming flair.
Color & Candles Ceremony Structure
Using an accent color through lighting adds depth and character to a modern chuppah or ceremony structure. Adding hanging elements catch the light and add dramatic shadow to any ceremony.
Timeless and Contemporary Elegance
A high contrast environment, using elevated embellishments and dramatic lighting set a formal tone for any ceremony.
Asymmetrical Natural Ceremony Structure
Romantic sheer fabric beautifully draped from a wooden arch is reminiscent of vintage weddings of times gone by. Embellishing the setting further with garden floral helps to set the perfect tone.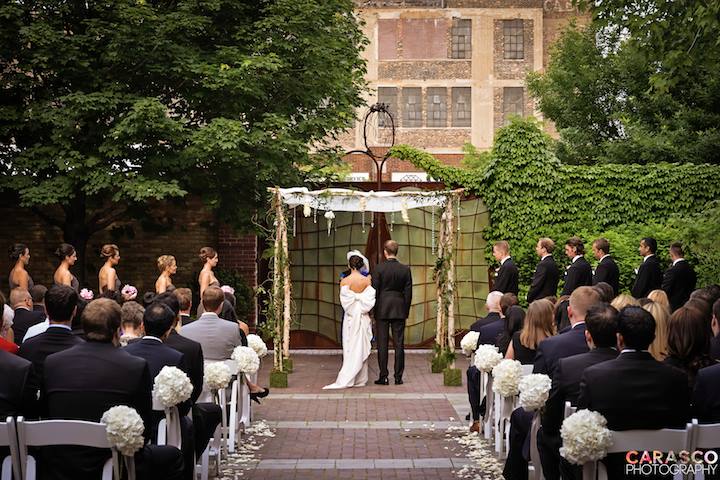 Industrial Rustic Ceremony Structure
Hanging floral dances overhead, perfectly suspended from a natural wooden arch. A great way to enhance an urban environment with a touch of organic flair.
Cross Swagged & Elevated Chuppah
Elevating the ceremony through fabric covered staging provides a theatrical approach to any wedding. Drawing guests eyes further upward through the use of crossed draped fabric creates an impactful setting.
Strung Light Chuppah
Diffused light twinkles from beneath white romantic sheer drape. Cascading moments of density perfectly frame the "I dos".
Elevated & Traditional Chuppah
Dramatic "statement pieces" placed down the aisle. Classic white chiffon chuppah at the end of the aisle, with fabric panels pulled to the frame creating a "criss crossed" design, puddling to the floor.
Urban & Metallic
For urban settings a warm copper metal piping arch softened with lush greenery and floral is a great way to add drama to a ceremony.